Full Menu
When choosing a cake flavor combination, consider what you would enjoy having when dining out!
 What do you think of when you treat yourself to dessert?

All cakes are prepared fresh to order, so any combination is possible. 
Below is a list of some flavors to spark your imagination, but don't let us stop you there! 
We also take special requests to create the unique, memorable flavors that you're looking for. 
Trying to recreate a family favorite? Describe it to us & let us recreate it!
Cakes, Cupcakes, & Wedding Cakes Menu
Cake Flavors
Golden Yellow
Funfetti
Dark Chocolate Fudge
Rasberry Ripple
Red Velvet
Rum
Carrot
Apple Spice
Pumpkin
Cherry Chip
Champagne
Chocolate Chambord
Almond
Kahlua
Orange Creamsicle
Lemonade
Frosting Flavors
Our very own smooth & light buttercream frosting can be combined with any flavor!
Vanilla
Chocolate
Kahlua
Mint
Lemon Zest
Cinnamon Spice

Try It Whipped!

Chocolate Fudge
Cream Cheese
Chocolate Ganache

Fondant or Modeling Chocolate

This can be used to enrobe an entire cake or it can be sculpted into edible decorative pieces!
Filling Flavors
Cheesecake
Fresh Fruit
Bavarian Crème

Chocolate
Vanilla
Butterscotch

Fruit Preserves
 Mousse

Chocolate
Vanilla
Strawberry
Raspberry
Lemon
Lime
Orange

Mousse Mix-ins

Heath Bar
Chocolate Chip Cookie
Peanut Butter Cup
Mint Chocolate Bits
Cinnamon Sugar
Chocolate Rainbow Chip
Peanut Butter
Oatmeal
Lemonade
Choose from a large variety of fresh, soft baked cookies! Have a hot batch delivered to your doorstep! Who wouldn't love that?! Our Signature Flavors are to the right.
Get 18 cookies between 3 and 4 inches diameter delivered for 22.00 dollars. Discounts can apply to large orders.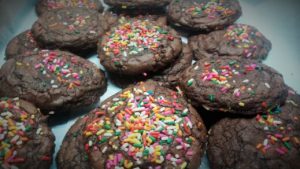 SnackKrack
A perfect combo of sweet and salty. Cereal, crackers, popcorn, & chips drenched in an absolutely addictive buttery carmel glaze & drizzled with 2 kinds of chocolate. This makes a perfect addition to cookie and cupcake platters, served by the pound, or personalized into perfect flavors.
$15.00 per pound.
Retail product is available at Mama Galloni's in Feeding Hills, MA.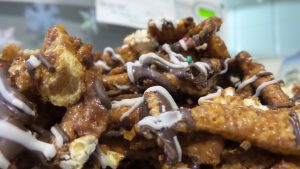 Bakery In A Box
AKA
A platter or tray of fresh made treats.
A custom made care package or gift basket.
The best meeting snacks ever.
Our one-of-a-kind pastries come in two sizes: large or bite size! Be sure to ask about new items, original creations, ans seasonal specials. A sweet treat for any event, see our list below to create your own unique platter!
Always delicious & delivered.